Genel
VNP NF – Fire Fighting Pump Systems
Uncontrolled fires lead to loss of life and property. The most important of the active fire protection systems those exist in the commercial and industrial buildings are water-based fire fighting systems (automatic sprinklers, indoor fire cabinets, outdoor hydrants, spraying, fogging and foaming systems, etc.) and they are designed to operate at a maximum of 25 bar operating pressure.
It is of vital importance that fire pumps that are accurately designed in order to pressurize the water-based fire fighting systems and keep them ready to be used at any time exist in the system so that the loss of life and property can be minimized.
Pump bearings are lubricated by means of the fluid it compresses and are designed for a maximum operating pressure of 25 bar and for pressurization of liquids between temperatures of -20ºC and +120ºC.
General Features
Proffesional fire fighting system with water
Proffesional fire fighting system with NFPA certification
Quick to starting&operation feature
Control panel resistant to high temperature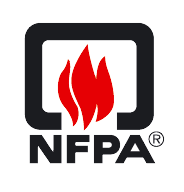 Gallery
NFPA & NFPA20 Standard
About NFPA and "NFPA20"
NFPA (National Fire Protection Association) is an organization that sets and publishes the standards for issues that affect the fire and fire safety, which are mandatory to be implemented in the United States. NFPA is the most esteemed and most widely sourced institution, when compared to the similar institutions of other countries, also including our country, and the standards it sets are the most widespread standards.
NFPA20 (Standard for the Installation of Centrifugal Fire Pumps) is NFPA's standard for fire pumps. It is the standard that determines the properties of fire pumps and pump groups, engine control systems and the other related ancillary equipment.
The fire pumps manufactured by VANSAN Makina San. ve Tic. A.Ş. are designed according to the standards determined by NFPA20, assembled with all the system equipments on a single chassis and offered to the service of customers as a complete set.
Vansan Pumps with NFPA20 Standard
The fire pumps manufactured by VANSAN, of which the models are given below, operate in full compliance with the water-based fire fighting systems, which are designed in accordance with the NFPA standards.
– Single stage horizontal centrifugal pumps
– Horizontal double suction splitcase pumps
– Vertical Turbine Pumps
– Vertical Inline Multistage Pumps
NFPA Certificate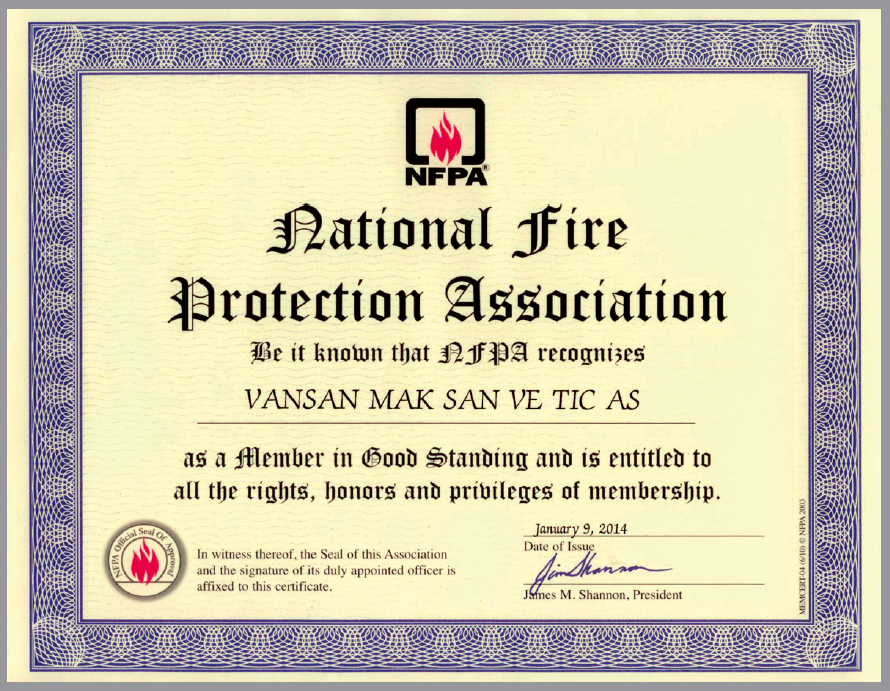 Parts

| | |
| --- | --- |
| | Fire Fighting System Equipments |
| 1 | VNP Fire Fighting Pump |
| 2 | Electric Motor |
| 3 | Diesel Motor |
| 4 | Jockey Pump |
| 5 | Electric Control Panel |
| 6 | Diesel Control Panel |
| 7 | Chassis |
| 8 | Suction Collector |
| 9 | Trust Collector |
| 10 | Suction Valve |
| 11 | Trust Valve |
| 12 | Check Valve |
| 13 | Safety Valve |
| 14 | Heat Exchangers |
| 15 | Tank |
| 16 | Pressurestat |
| 17 | Manometer |
Others
Product Code System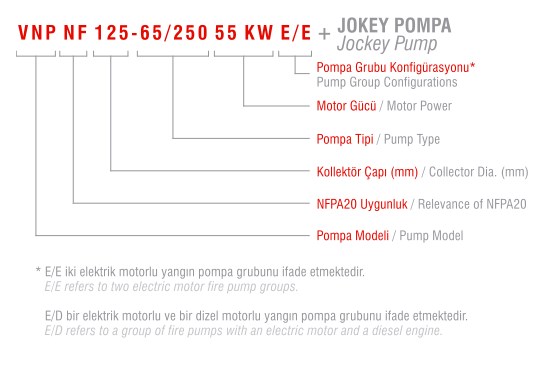 VNP Pump Selection Table according to NFPA 20 Standard