General
VIP – Vertical Multistage In-line Pumps
Vertical Multistage Inline Pumps are designed to create solutions for industrial facilities, high buildings, fire fighting systems, booster systems and pumping clean water for required head and capacity. That's why they can be used easily in different systems that requires special requests about performance and materials.
Vansan Vertical Multistage Inline Pumps can be connected to eachother on the same pipeline directly because of their same size suction and discharge connection flanges. There is a compact installation and pumping system with this special design. Pump bearings are lubricated by the pumped fluid.
Technical Features
Max. capacity 200m³/h
Max. head 305 m
Max. power 30 kW
Between -20º and 120º temperature range
Max. 25 bar operating pressure
Stainless Steel options
Pump-integrated liquid sensor
John Crane mechanical seal
Features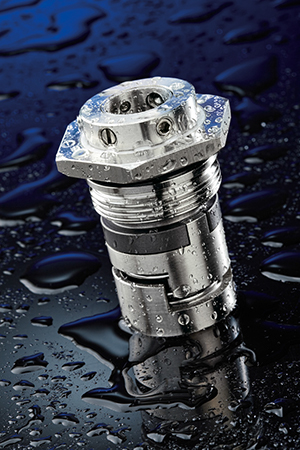 All Vansan-VIP Pumps are produced with Si-C cartridge type mechanical seal provides the longlife and maintanence free operation.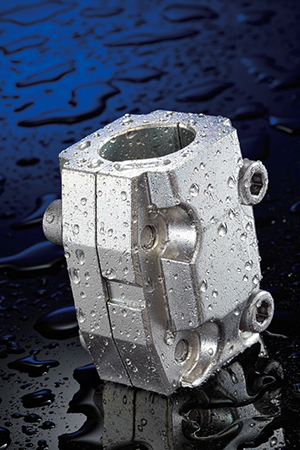 The removable coupling design supplies easy replacement operation for the motor without dismautling the pump from the pipeline.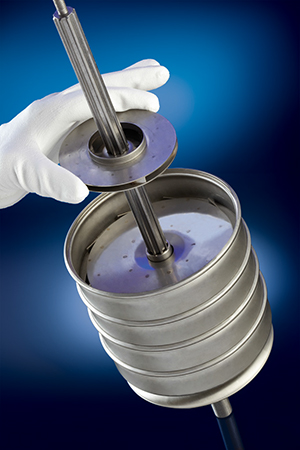 All impellers and difusers are made from AISI304 Stainless Steel. As an option the net pants of the top & bottom brackets can also made from AISI304.
Additional Features
In-Line Pump With Frequency Inverters
The use of frequency inverters increasing the life time of the booster system and acc. to the system the arrangement of the speed will same energy.
– Superior energy saving.
– Extremely silent operation performance
– Much longer working life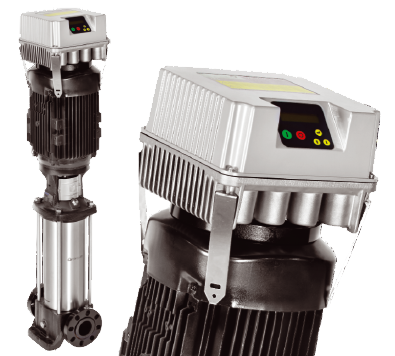 Stainless İnlet&Outlet
It is a must to use stainless steel components to pump an agressive water or in the application of drinking water pumping..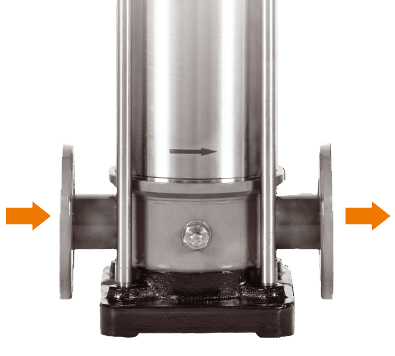 In-Line Fire Fighting Pumps
" Vansan Vertical Multistage In-Line Fire Fighting Pumps", certified by NFPA, are used for fire fighting systems with capacity range "20-100 m3/h" for industrial plants and residential buildings applications in general.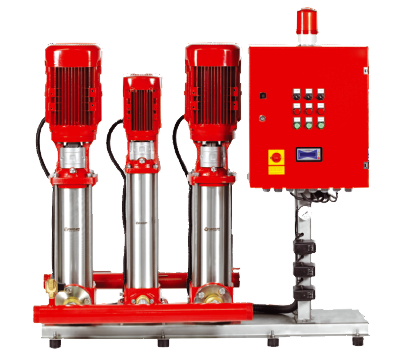 Parts
| NO | Part Name | Material |
| --- | --- | --- |
| 1a | Chamber | Stainless Steel (AISI 304) |
| 1b | Chamber | Stainless Steel (AISI 304) |
| 2 | Impeller | Stainless Steel (AISI 304) |
| 3 | Suction Case | Stainless Steel (AISI 304) |
| 4 | Pump Head | Stainl.(GG25), Steel (AISI304) |
| 5 | Strap | Stainless Steel (AISI304) |
| 6 | Coupling Guard | Stainless Steel (AISI304) |
| 7 | Shaft | Stainless Steel (AISI 420) |
| 8 | Coupling |  Stainless Steel (AISI304) |
| 9 | Discharge | Stainless Steel (AISI304) |
| 10 | Staybolts | Stainless Steel (AISI 420) |
| 11 | Shaft Seal | – |
| 12 | Plug | Stainless Steel (AISI 303) |
| 13-14 | Vent Plug | Stainless Steel (AISI 303) |
| 15 | Stop Spacer | Stainless Steel (AISI 316) |
| 16 | Spacing Pipe | Stainless Steel (AISI 304) |
| 17 | Stop Nut | Stainless Steel (AISI 316) |
| 18 | Bearing Ring | Silicon Carbide (SiC) |
| 19 | Centrilizer Suction Sheet | Stainless Steel (AISI 304) |
| 20 | Neck Ring | Teflon / Teflon |
| 21 | Outer Sleeve | Stainless Steel (AISI 304) |
| 22 | Stop Spacer | Rubber |
| 23 | Lock Washer Set For Shaft | Stainless Steel (AISI 316) |
| 24 | Shaft Pin | Stainless Steel (AISI 304) |
| 25 | Drain Plug | Stainless Steel (AISI 303) |
| 26 |  Bolt | Stainless Steel (AISI 304) |
| 27 |  Washer | Stainless Steel (AISI 304) |
| 28 | O-ring | Rubber |
| 29 | O-ring | Rubber |
| 30 | O-ring | Rubber |
| 31 | Neck Ring Retainer | Stainless Steel (AISI 304) |
| 32 | Lock Nut For Shaft | Stainless Steel (AISI 304) |
| 33 | Washer | Stainless Steel (AISI 304) |
| 34 |  Bolt | Stainless Steel (AISI 1050) |

Others
Product Code System