General
VSP SS – Vansan Stainless Steel Submersible Pumps (6"-7"-8"-10")
A product of superior Vansan engineering, Vansan Stainless Steel Submersible Pumps are designed to produce more work with less energy and higher efficiency. They provide a long life and a stable performance with their superior material and production characteristics. Their reliable design reduces the lifetime cost (life cycle cost) and allows them to run economically.
Technical Features
Max. capacity 290 m³/h
Max. head 700 m
Max. allowable sand content 50 g/m³
Complete stainless steel
Suitable connection in NEMA standarts
Long life and high efficiency
---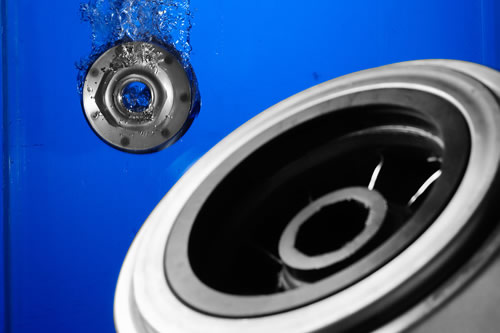 Rubber bearings are water lubricated and have sand channel that makes it possible the sand particles leave the pump with pumped liquid.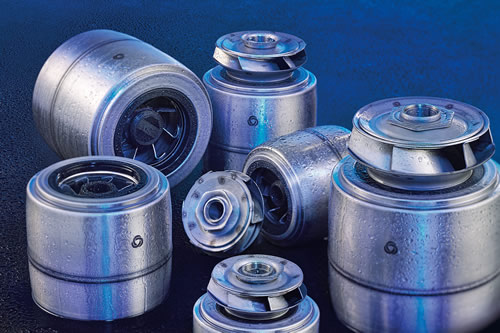 Manufacturing stainless steel diffusers, impellers, suction case and discharge case provides maximum strength, durability, wear amd tear resistance.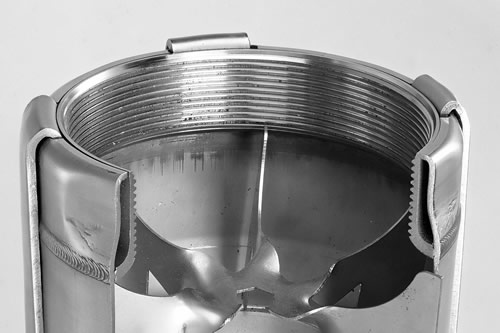 Vansan Submersible pumps have NPT and Metric threaded connection according to NEMA standart.
Submersible Pumps General Information
Long life
High efficiency
High durability and easy installation
Easy service
Flange with NEMA standards
Water lubricated rubber bearing
Built-in checkvalve to prevent back flow
Applications
Pressurized water supply from borehole wells
Agricultural irrigation
Industrial processes
Pressurizing
ADDITIONAL FEATURES AND APPLICATIONS
With the help of the "Sleeve Jacket Application", which is designed by Vansan engineering team , it is possible to reach high pressures with higher pump efficiencies.
By the design of Tandem type pumps , it is possible to reach high pressures without increasing diameter of 6″ pumps.
Gallery
Parts and Materials
Parts and Materials (10…60 m³/h)
| No | Part Name | Material |
| --- | --- | --- |
| 1 | Suction Case | Stainless Steel (AISI 304L) |
| 2 | Strainer | Stainless Steel (AISI 304L) |
| 3 | Suction Case Wear Ring | ***AISI 304 + Kauçuk (Rubber) |
| 4 | Pump Shaft | Stainless Steel (AISI 431) |
| 5 | Collet | Stainless Steel (AISI 304) |
| 6 | Impeller Wear Ring | Stainless Steel (AISI 304L) |
| 7 | Impeller | Stainless Steel (AISI 304L) |
| 8 | Nut For Stop Ring | Stainless Steel (AISI 304) |
| 9 | Stop Ring | Bronze (ASTM B145-4A) |
| 10 | Diffuser | Stainless Steel (AISI 304L) |
| 11 | Diffuser Wear Ring | Rubber |
| 12 | Nut For Collet | Rubber |
| 13 | Rubber Bearing | Stainless Steel (AISI 304L) |
| 14 | Upper Bearing | Bronze (ASTM B145-4A) |
| 15 | Valve Cup | Stainless Steel (AISI 304L) |
| 16 | Discharge Case | Stainless Steel (AISI 304L) |
| 17 | Tie Rod | Stainless Steel (AISI 304L) |
| 18 | Cable Guard | Stainless Steel (AISI 304L) |
| 19 | Tie Rod Nut | Stainless Steel (AISI 304) |
| 20 | Tie Rod Stud | Stainless Steel (AISI 316) |
| 21 | Name Plate | Stainless Steel (AISI 304L) |
| 22 | Coupling | Stainless Steel (AISI 431) |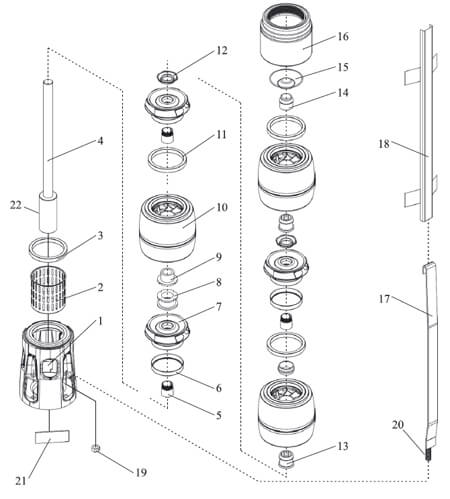 ---
Parts and Materials (75…210 m³/h)
| No | Part Name | Material |
| --- | --- | --- |
| 1 | Suction Case | Stainless Steel (AISI 304L) |
| 2 | Strainer | Stainless Steel (AISI 304L) |
| 3 | Suction Case Wear Ring | Rubber |
| 4 | Pump Shaft | Stainless Steel (AISI 431) |
| 5 | Collet | Stainless Steel (AISI 304) |
| 6 | Impeller Wear Ring | Stainless Steel (AISI 304L) |
| 7 | Impeller | Stainless Steel (AISI 304L) |
| 8 | Stop Ring | Bronze (ASTM B145-4A) |
| 9 | Diffuser | Stainless Steel (AISI 304L) |
| 10 | Diffuser Wear Ring | Rubber |
| 11 | Nut for Collet | Stainless Steel (AISI 304L) |
| 12 | Rubber Bearing | Rubber |
| 13 | Upper Bearing | Bronze (ASTM B145-4A) |
| 14 | Discharge Case | Stainless Steel (AISI 304L) |
| 14.1 | Discharge Case Body | Stainless Steel (AISI 304L) |
| 14.2 | Valve Cup Spring | Stainless Steel (AISI 304L) |
| 14.3 | Valve Cup Guide | Stainless Steel (AISI 304L) |
| 14.4 | Valve Cup | Stainless Steel (AISI 304L) |
| 14.5 | Upper Valve Cup Seat Retainer | Stainless Steel (AISI 304L) |
| 14.6 | Valve Cup Seat | Rubber |
| 14.7 | Lower Valve Cup Seat Retainer | Stainless Steel (AISI 304L) |
| 15 | Coupling | Stainless Steel (AISI 431) |
| 16 | Tie Rod | Stainless Steel (AISI 304L) |
| 17 | Cable Guard | Stainless Steel (AISI 304L) |
| 18 | Tie Rod Stud | Stainless Steel (AISI 316) |
| 19 | Tie Rod Nut | Stainless Steel (AISI 304L) |
| 20 | Name Plate | Stainless Steel (AISI 304L) |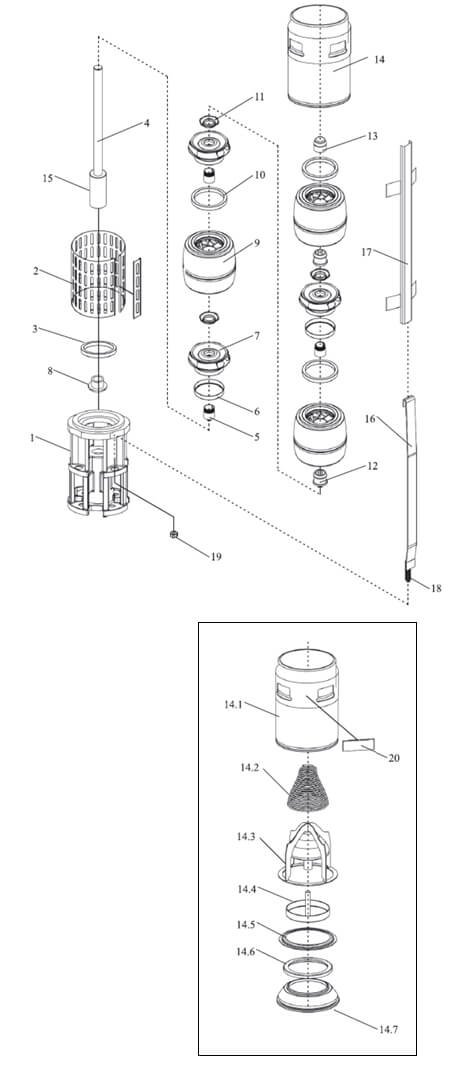 Others
Product Code System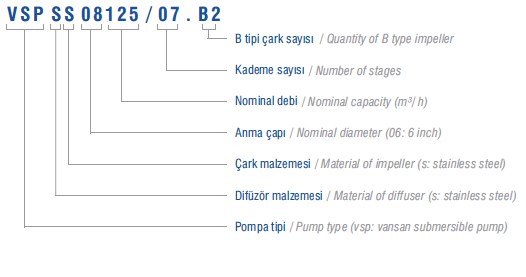 CABLE DIMENSIONS / DIRECT
| HP | 3×1,5 | 3×2,5 | 3×4 | 3×6 | 3×10 | 3×16 | 3×25 | 3×35 | 3×50 | 3×70 | 3×95 |
| --- | --- | --- | --- | --- | --- | --- | --- | --- | --- | --- | --- |
| 5,5 | 65 | 108 | 172 | 258 | 431 | 689 | 1.077 | 1.507 | 2.153 | 3.014 | 4.091 |
| 7,5 | 48 | 80 | 129 | 193 | 322 | 515 | 805 | 1.127 | 1.610 | 2.254 | 3.059 |
| 10 | 38 | 64 | 102 | 153 | 256 | 409 | 639 | 894 | 1.278 | 1.789 | 2.428 |
| 12,5 | | 52 | 83 | 125 | 209 | 334 | 522 | 730 | 1.043 | 1.461 | 1.982 |
| 15 | | 45 | 72 | 109 | 181 | 289 | 452 | 633 | 904 | 1.266 | 1.718 |
| 17,5 | | | 61 | 92 | 153 | 245 | 383 | 536 | 765 | 1.071 | 1.454 |
| 20 | | | 52 | 79 | 131 | 210 | 327 | 458 | 655 | 917 | 1.244 |
| 25 | | | | | 106 | 170 | 266 | 372 | 531 | 744 | 1.009 |
| 30 | | | | | 90 | 145 | 226 | 316 | 452 | 633 | 859 |
| 35 | | | | | 76 | 122 | 190 | 266 | 380 | 532 | 722 |
| 40 | | | | | 67 | 107 | 168 | 235 | 336 | 470 | 638 |
| 50 | | | | | | 89 | 139 | 195 | 279 | 390 | 529 |
| 60 | | | | | | | 115 | 160 | 229 | 321 | 434 |
| 70 | | | | | | | | 139 | 198 | 278 | 377 |
| 75 | | | | | | | | 131 | 187 | 262 | 356 |
| 80 | | | | | | | | 120 | 172 | 241 | 326 |
| 90 | | | | | | | | | 154 | 215 | 292 |
| 100 | | | | | | | | | 132 | 192 | 261 |
| 110 | | | | | | | | | 127 | 178 | 242 |
| 125 | | | | | | | | | | 157 | 213 |
| 150 | | | | | | | | | | | 182 |
| 175 | | | | | | | | | | | 155 |
| 200 | | | | | | | | | | | |
| 210 | | | | | | | | | | | |
| 225 | | | | | | | | | | | |
| 250 | | | | | | | | | | | |
CABLE DIMENSIONS / STAR-DELTA
| HP | 3×1,5 | 3×2,5 | 3×4 | 3×6 | 3×10 | 3×16 | 3×25 | 3×35 | 3×50 | 3×70 | 3×95 |
| --- | --- | --- | --- | --- | --- | --- | --- | --- | --- | --- | --- |
| 5,5 | 97 | 161 | 258 | 388 | 646 | 1.033 | 1.615 | 2.261 | 3.230 | 4.521 | 6.136 |
| 7,5 | 72 | 121 | 193 | 290 | 483 | 773 | 1.207 | 1.690 | 2.415 | 3.381 | 4.588 |
| 10 | 57 | 96 | 153 | 230 | 383 | 613 | 958 | 1.342 | 1.916 | 2.683 | 3.641 |
| 12,5 | 47 | 78 | 125 | 188 | 313 | 501 | 783 | 1.096 | 1.565 | 2.191 | 2.974 |
| 15 | 41 | 68 | 109 | 163 | 271 | 434 | 678 | 949 | 1.356 | 1.899 | 2.577 |
| 17,5 | 34 | 57 | 92 | 138 | 230 | 367 | 574 | 803 | 1.148 | 1.607 | 2.181 |
| 20 | 29 | 49 | 79 | 118 | 196 | 314 | 491 | 688 | 982 | 1.375 | 1.867 |
| 25 | | 40 | 64 | 96 | 159 | 255 | 398 | 558 | 797 | 1.115 | 1.514 |
| 30 | | | 54 | 81 | 136 | 217 | 339 | 475 | 678 | 949 | 1.288 |
| 35 | | | 46 | 68 | 114 | 182 | 285 | 399 | 570 | 798 | 1.083 |
| 40 | | | | 60 | 101 | 161 | 252 | 352 | 503 | 705 | 956 |
| 50 | | | | | 84 | 134 | 209 | 293 | 418 | 585 | 794 |
| 60 | | | | | 69 | 110 | 172 | 241 | 344 | 481 | 653 |
| 70 | | | | | 59 | 95 | 149 | 208 | 297 | 416 | 565 |
| 75 | | | | | | 90 | 141 | 197 | 281 | 394 | 534 |
| 80 | | | | | | 82 | 129 | 180 | 258 | 361 | 490 |
| 90 | | | | | | 74 | 115 | 162 | 231 | 323 | 439 |
| 100 | | | | | | | 103 | 144 | 206 | 289 | 392 |
| 110 | | | | | | | 95 | 134 | 191 | 267 | 363 |
| 125 | | | | | | | | 118 | 168 | 235 | 319 |
| 150 | | | | | | | | 101 | 144 | 201 | 273 |
| 175 | | | | | | | | | 123 | 172 | 233 |
| 200 | | | | | | | | | | 152 | 207 |
| 210 | | | | | | | | | | 145 | 196 |
| 225 | | | | | | | | | | | |
| 250 | | | | | | | | | | | |