General
Technology that Reduces Irrigation Costs To Zero: SOL-RX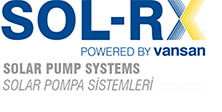 With a capability of World's most reliable and cheapest energy sources solar, you can reduce your irrigation costs to zero and make your works easier. "All-InOne" is a SOL-RX concept that provides maximum energy from solar. With this concept, capital cost reduces and lifetime of the system gets longer.
---
SAMPLE SOLAR PUMP SYSTEM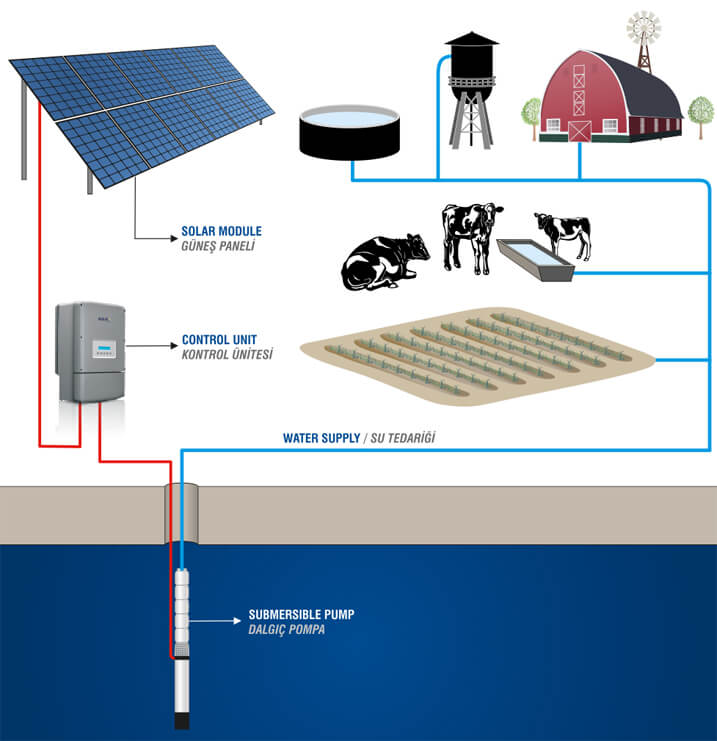 Solar Module
All photovoltaic modules are tested mechanically and electrically by the SOL-RX quality&control engineers. Thanks for the quality procedure, systems works 25 years smoothly.
---
Water Supply
The water supplied by SOL-RX can be either used for drip irrigation or sprinkler system while it is also suitable to stored in a tank for later needs. The philosophy of solar pumping is not to gather big volumes of water in short time but gather the small volume of water in a long time period to reach sustainable water regime. Thanks for the idea of solar powered pumping to save water-well agains the drouth with cost efficient investment.
Control Unit
With IP 65 protection level and internal combiner box, SOL-RX control unit can be installed easily. Internal MPPT module makes more efficient systems and provides up to %25 less energy consumption.
---
Submersible Pump
Long-lasting and highly efficient SOL-RX solar water pump systems can pump the water up from 10 m³/day to 210 m³/day and maximum pump head of 520 m.
Why SOL-RX?
Why SOL-RX?
✓ Long lifetime and maintenance free
✓ Easy installation with internal combiner box
✓ High technology control unit, water pump and motor
✓ Maximizing energy efficiency (~+%25) with internal mppt module
✓ Shorter payback period against diesel generators
✓ Easy installation and zero operating costs
✓ Battery free, direct drive system
✓ Possibility to work with generator or grid electricity in case of requirement
---
Why Do We Need "ALL IN ONE"?
In solar pumping systems it is very important that all equipments work together with a harmony. Incorrect system designs make capital costs higher and can not satisfy requirements. Thanks to the "All In One" concept, all the equipment that makes up the system is easily determined by the solar pump selection program developed by the SOL-RX team, and the equipment such as photovoltaic module, control unit and motopump are provided together to create efficiency systems.
Selection Software

SOFWARE DECIDES THE MOST EFFICIENT SYSTEM!
With user friendly solar pump selection software that developed by the SOL-RX engineers,
you can select the best pump system with your requirement.
For SOL-RX solar pump selection software, please visit www.sol-rx.com.
Pump Selection Software
please visit to website
Product Table
PUMP
MOTORS
CONTROL UNIT
Product Code
Stage
Qmin-Qmax
Hmin-Hmax
Power
Diameter
Phase
Start
Voltage
Mppt
Range
Protection
Class
(Ad.)
(m³/h)
(m)
(W)
(inch)
1ph
3ph
(V)
(V)
IP65
IP54
SLX 0401-10
10
0,3 – 1,5
14 – 60
0,37
4″
1 ph
–
80
95-360
IP65
–
SLX 0401-19
19
0,3 – 1,5
26 – 114
0,55
4″
1 ph
–
80
95-360
IP65
–
SLX 0401-38
38
0,3 – 1,5
52 – 227
1,1
4″
1 ph
–
80
140-360
IP65
–
SLX 0402-14
14
0,6 – 3
41 – 90
0,75
4″
1 ph
–
80
95-360
IP65
–
SLX 0402-28
28
0,6 – 3
82 – 181
1,5
4″
1 ph
–
80
190-360
IP65
–
SLX 0403-05
5
1,2 – 4,2
12 – 32
0,37
4″
1 ph
–
80
95-360
IP65
–
SLX 0403-16
16
1,2 – 4,2
37 – 102
1,1
4″
1 ph
–
80
140-360
IP65
–
SLX 0403-32
32
1,2 – 4,2
72 – 198
2,2
4″
–
3 ph
80
260-360
IP65
–
SLX 0404-05
5
1,5 – 5,4
13 – 30
0,37
4″
1 ph
–
80
95-360
IP65
–
SLX 0404-14
14
1,5 – 5,4
35 – 85
1,1
4″
1 ph
–
80
140-360
IP65
–
SLX 0404-27
27
1,5 – 5,4
68 – 163
2,2
4″
–
3 ph
80
260-360
IP65
–
SLX 0404-48
48
1,5 – 5,4
120 – 290
4
4″
–
3 ph
250
490-700
IP65
–
SLX 0405-04
4
1,8 – 6
11 – 24
0,37
4″
1 ph
–
80
95-360
IP65
–
SLX 0405-08
8
1,8 – 6
21 – 49
0,75
4″
1 ph
–
80
95-360
IP65
–
SLX 0405-16
16
1,8 – 6
42 – 97
1,5
4″
1 ph
–
80
190-360
IP65
–
SLX 0405-24
24
1,8 – 6
63 – 146
2,2
4″
–
3 ph
80
260-360
IP65
–
SLX 0405-44
44
1,8 – 6
116 – 267
4
4″
–
3 ph
250
490-700
IP65
–
SLX 0406-07
7
2,7 – 8,4
14 – 38
0,75
4″
1 ph
–
80
95-360
IP65
–
SLX 0406-14
14
2,7 – 8,4
28 – 76
1,5
4″
1 ph
–
80
190-360
IP65
–
SLX 0406-49
49
2,7 – 8,4
97 – 265
5,5
4″
–
3 ph
250
490-700
IP65
–
SLX 0408-04
4
3,6 – 12
10 – 24
0,75
4″
1 ph
–
80
95-360
IP65
–
SLX 0408-08
8
3,6 – 12
19 – 48
1,5
4″
1 ph
–
80
190-360
IP65
–
SLX 0408-13
13
3,6 – 12
31 – 78
2,2
4″
–
3 ph
80
260-360
IP65
–
SLX 0408-23
23
3,6 – 12
56 – 138
4
4″
–
3 ph
250
490-700
IP65
–
SLX 0408-32
32
3,6 – 12
77 – 192
5,5
4″
–
3 ph
250
490-700
IP65
–
SLX 0412-10
10
6 – 14,4
24 – 54
2,2
4″
–
3 ph
80
260-360
IP65
–
SLX 0412-19
19
6 – 14,4
46 – 103
4
4″
–
3 ph
250
490-700
IP65
–
SLX 0412-34
34
6 – 14,4
83 – 184
7,5
4″
–
3 ph
250
490-700
IP65
–
SLX 0416-10
10
7,2 – 24
17 – 54
3
4″
–
3 ph
250
490-700
IP65
–
SLX 0416-16
19
7,2 – 24
32 – 103
5,5
4″
–
3 ph
250
490-700
IP65
–
SLX 0416-27
27
7,2 – 24
46 – 146
7,5
4″
–
3 ph
250
490-700
IP65
–
SLX 0610-06
6
3,6 – 18
23 – 56
2,2
4″
–
3 ph
80
260-360
IP65
–
SLX 0610-15
15
3,6 – 18
58 – 140
5,5
6″
–
3 ph
250
490-700
IP65
–
SLX 0610-30
30
3,6 – 18
116 – 280
11
6″
–
3 ph
250
490-700
IP65
–
SLX 0610-49
49
3,6 – 18
190 – 457
18,5
6″
–
3 ph
250
490-700
IP65
–
SLX 0617-05
5
6 – 20
33 – 57
3
4″
–
3 ph
250
490-700
IP65
–
SLX 0617-10
10
6 – 20
65 – 113
5,5
6″
–
3 ph
250
490-700
IP65
–
SLX 0617-14
14
6 – 20
91 – 159
7,5
6″
–
3 ph
250
490-700
IP65
–
SLX 0617-20
20
6 – 20
131 – 227
11
6″
–
3 ph
250
490-700
IP65
–
SLX 0617-28
28
6 – 20
183 – 317
15
6″
–
3 ph
250
490-700
IP65
–
SLX 0617-41
41
6 – 20
268 – 465
22
6″
–
3 ph
250
490-700
IP65
–
SLX 0630-02
2
7 – 43
5 – 23
2,2
4″
–
3 ph
80
260-360
IP65
–
SLX 0630-04
4
7 – 43
10 – 46
4
6″
–
3 ph
250
490-700
IP65
–
SLX 0630-08
8
7 – 43
20 – 92
7,5
6″
–
3 ph
250
490-700
IP65
–
SLX 0630-11
11
7 – 43
27 – 127
9,3
6″
–
3 ph
250
490-700
IP65
–
SLX 0630-17
17
7 – 43
42 – 196
15
6″
–
3 ph
250
490-700
IP65
–
SLX 0630-24
24
7 – 43
59 – 277
22
6″
–
3 ph
250
490-700
IP65
–
SLX 0630-42
42
7 – 43
104 – 484
37
6″
–
3 ph
250
490-700
–
IP54
SLX 0645-02
2
12 – 60
12 – 29
3
4″
–
3 ph
250
490-700
IP65
–
SLX 0645-05
5
12 – 60
30 – 72
7,5
6″
–
3 ph
250
490-700
IP65
–
SLX 0645-08
8
12 – 60
48 – 115
13
6″
–
3 ph
250
490-700
IP65
–
SLX 0645-11
11
12 – 60
66 – 158
18,5
6″
–
3 ph
250
490-700
IP65
–
SLX 0645-14
14
12 – 60
84 – 202
22
6″
–
3 ph
250
490-700
IP65
–
SLX 0645-18
18
12 – 60
108 – 259
30
6″
–
3 ph
250
490-700
–
IP54
SLX 0645-23
23
12 – 60
138 – 331
37
6″
–
3 ph
250
490-700
–
IP54
SLX 0660-04
4
20 – 76
20 – 52
7,5
6″
–
3 ph
250
490-700
IP65
–
SLX 0660-06
6
20 – 76
30 – 78
11
6″
–
3 ph
250
490-700
IP65
–
SLX 0660-10
10
20 – 76
50 – 130
18,5
6″
–
3 ph
250
490-700
–
IP54
SLX 0660-14
14
20 – 76
70 – 182
26,5
6″
–
3 ph
250
490-700
–
IP54
SLX 0660-21
21
20 – 76
105 – 273
37
6″
–
3 ph
250
490-700
–
IP54