General
VDP – Vertical Turbin Pumps
Vertical Turbine Pumps up to 30.000 m3/h

VANSAN, the leading pump manufacturer in the industry, produces special pumps for turn-key project, with its high engineering and powerful R&D team. Specialized in the production of turbine pumps, Vansan continues to successfully produce Vertical Turbine Pump in the range of 10 m³/ h-30000 m³/h with H max. 600 m. and Axial Pumps in the range of 900 m³/h to 30.000 m³/h, which can compress liquids up to 8 meters, offering water-based, oil-based or grease lubricated options. Vansan produces special solutions for the projects, which require high capacities, within the country and abroad, and undertakes all the process until the commissioning of the pump station.
It is no coincidence that today Vansan pumps are seen everywhere in the world. Recognizing the requirements of being a leader in the sector, Vansan meticulously plans and implements all the processes from planning to production, quality management to after-sales support. It is possible to save up 30% of the energy by means of a good system design and a well-designed pump. Keeping that in mind, Vansan continues to work nonstop to produce pumps that produce more work and consume less energy. The life cycle cost is the most important criterion in designing all VANSAN products.
Technical Features
Max. capacity 30.000 m³/h
Max. head 8 meter
30% energy saving
%93 performance
Water, oil, grease lubrication options
Specific design and material option
Research and Development
Vansan R & D department uses a special design software already prepared by Vansan Engineers to create a new impeller and diffuser. Design results will be rechecked by CFD programs before starting the preparation of patterns. This ability gives a great flexibility to create a new pump in a short period with high efficiency.
High Efficiency
20 % of produced energy in the world is consumed by pumps. Saving % 30 of this energy is possible with a good system design and well designed pumps. With this awareness our purpose is to produce pumps with high efficiencies up to %93. The most important criteria for Vansan Team is life cycle cost.
Different Material Option
Vansan gives a great material selection option to the customers for different applications such as cast iron, cast steel, non-alloyed and low alloy steel grades, stainless CrNi Steel grades, duplex and superduplex steel grades, Bronze, Ni-Al Bronze and others.
Quality Assurance
Quality Control is a continuous process in Vansan. It starts from the quotation phase, ordering phase,manufacturing process, installation & operation phase, warranty period & after sales operations.
Gallery
Parts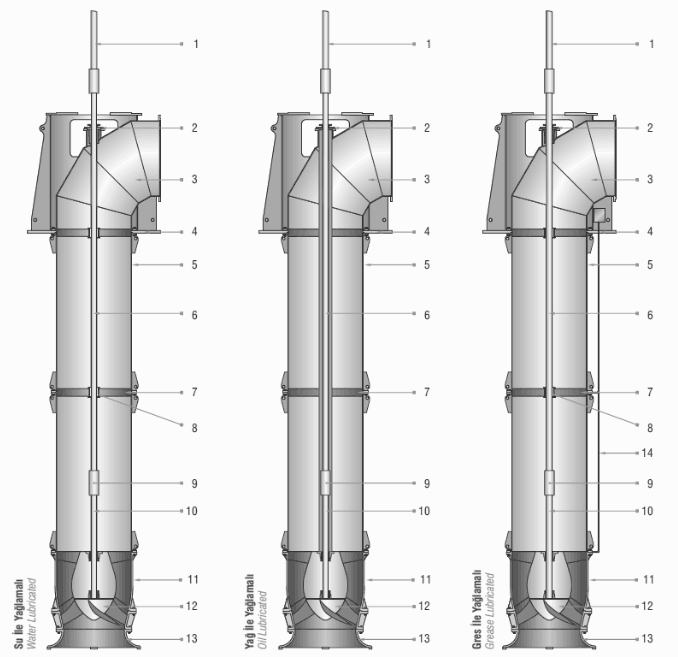 | | | |
| --- | --- | --- |
| | Part Name | Material |
| 1 | Head Shaft | AISI 420 |
| 2 | Stuffing Box | ASTM A48 |
| 3 | Disharge Elbow | ASTM A48 / steel construction |
| 4 | Base Plate | ASTM A48 / steel construction |
| 5 | Column Pipe | Fabricated Steel |
| 6 | Line Shaft | AISI 420 / AISI 316 |
| 7 | Bearing Retainer | ASTM A48 |
| 8 | Bearing | Lastik / SAE 63 |
| 9 | Shaft Coupling | AISI 420 / AISI 316 |
| 10 | Pump Shaf | AISI 420 / AISI 316 |
| 11 | Diffuser | ASTM A48 |
| 12 | Impeller | ASTM A48 / SAE 63 / AISI 316 |
| 13 | Suction Bell | ASTM A48 |
| 14 | Grease Tube | AISI 316 |
Others
Vertical Turbine Pumps Drive Varieties